Schelling's Works: The First and Comprehensive Scientific Edition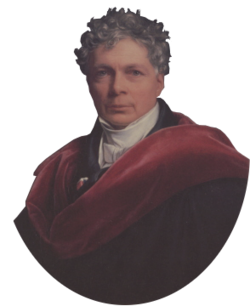 Friedrich Wilhelm Joseph von Schelling (1775–1854) had become famous already at a young age for his systematic concept of a philosophy of nature, art and freedom. After his death his comprehensive work had sunk into oblivion for a long time – until it was newly discovered in the second half of the 20th century. Ever since Schelling's work has experienced an outstanding renaissance in philosophy and academic research alike.
Schelling's life and thinking are closely connected to Munich. He lived here following positions in Tübingen, Jena and Würzburg from 1806 until 1820 and from 1827 until 1841. In October 1807 he delivered a sensational speech as a full member at the Bayerische Akademie der Wissenschaften (Bavarian Academy of Sciences and Humanities): »Über das Verhältnis der Bildenden Künste zur Natur« (On the Relationship of the Fine Arts to Nature). Schelling also played a significant role in the founding of the Akademie der Bildenden Künste (Academy of Fine Arts) in 1808 and became its first Secretary General. King Ludwig I. appointed Schelling 1827 professor at Munich's new university as well as the permanent President of the Academy of Sciences and the General Curator of the Scientific Collections. Schelling also became the philosophy teacher of heir to the throne Maximilian, who would also in his later years as King Maximilian II von Bayern maintain a close exchange with his old teacher until Schelling's death in 1854.
The Edition
The Historisch-kritische Ausgabe der Schriften Schellings represents the first historical-critical edition of Schelling's works. As a text-critical complete edition it is designed to provide numerous contributions to the research of Schelling's philosophy. The edited texts are being approached with comprehensive editorial reports regarding their form, origin and reception as well as explanatory notes and detailed registers
Archive and Database
The Project collects all the important documents researching the life and thinking of Schelling. They are being archived as originals, digital reproductions or copies and documented. The results won from collecting, archiving and documenting are entered into a database freely available for the interested.
Research can be done with regard to people, letters and literature from Schelling's environment. Transcripts of some of Schelling's manuscripts or of his audience will gradually be presented online.
Visiting scientists are welcome to conduct research in the archive and library on site, workstations can be provided. Please contact us.

»Schelling in München (1811–1841). Hybride Nachlass-Edition« ist ein Verbundprojekt mit der Albert-Ludwigs-Universität Freiburg.
This project is funded by the Federal Republic of Germany and the Free State of Bavaria as an initiative of the Bavarian Academy of Sciences and Humanities within the Academies' Programme.